GunCraft Silencers
At GunCraft our gunsmiths manufacture our own silencers here in Cape Town. We can make a silencer for any platform firearm, using high quality materials.
Our silencer design has been refined by over approximately twenty years of use. Please note that no silencer is indestructible and will fail over years of continued use.
Benefits of using a GunCraft Silencer
Reduces recoil.
Reduces concussion and noise.
Improves accuracy by a small margin acting as a vibration dampener.
At GunCraft we make 3 lengths of silencers
Mini  (approx 100-120mm)
Standard  (approx 170-200mm)
Reflex  (approx 280-300mm)
Select from 2 materials
Aluminum 7075 T651 (Aircraft Aluminum)
Stainless Steel 316
Please note that the stainless steel silencer is much heavier than the aluminum silencer and more expensive but will outlast the aluminum silencer.
The GunCraft Mini-silencer is made small and light. It can be used as a recoil reduction device and to take the worst bite out of the gunshot noise. However it makes a good noise reduction device for a small caliber cartridge.
The Mini-silencer contains three baffles to retard the expanding gasses. Because the Mini-silencer is so small, the first baffle is made from stainless steel to be able to handle the heat and pressure.
The Mini-silencer is also available in stainless steel, diameter 42mm and 50mm.
GunCraft Standard-Silencer
The GunCraft Standard-Silencer is like any traditional silencer that adds its entire length to the rifle. It adds more length to the rifle than the Mini- and Reflex-silencers.
The Standard-silencer contains three baffles to retard the expanding gasses.
The Standard-silencer is also available in stainless steel.
The GunCraft Reflex-Silencer gives you the added volume without adding too much length on the rifle, because approximately 60% of the silencer goes over the barrel. The Reflex-silencer has a stainless steel tube that protects the barrel from the gasses.
The Reflex design is the best for noise reduction.
The Reflex-silencer is also available in stainless steel.
Other silencer needs
Our skilled gunsmiths at GunCraft are capable of fitting a silencer on any type of firearm. We are happy to hear new ideas and to make custom silencers, so if you can draw it we can make it. Please note custom jobs is more expensive than readily available products.
Examples of silencers made by GunCraft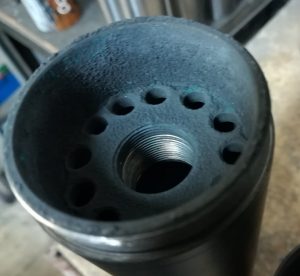 Contact GunCraft today to discuss your silencer needs